Emeritus Stanley J. Dudko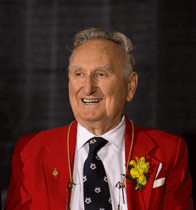 Sometimes it's the people closest to us who see our real needs. Over the years, Professor Emeritus Stanley J. Dudko witnessed the fine work of the College through the accomplishments of students and graduates. Therefore, he sought a way to secure the College for the future.
Professor Dudko taught Economics and Business here and coached soccer for many years. His wife, Jasia, has shared that Stanley has had two wives—Belmont Abbey and her. She never minded the competition because she has always been a loyal fan of the Abbey. Professor Dudko is beloved by many former students, soccer players and countless friends of the Abbey.
Professor Dudko chose to invest in Belmont Abbey College's future by though beneficiary designation of a life insurance policy. In his view, "The good monks and other priests at Belmont Abbey College taught me all the values I needed to succeed in life and in the teaching profession. My life and my work would have been so much the poorer were it not for the teachers and mentors like Fr. Matthew, Fr. John, Abbot Walter, Fr. Bradley, Abbot Edmund, Abbot Oscar, Fr. Cuthbert and Fr. Bertrand. I have made this gift in order to continue the good work of the Abbey, maintaining its high level of excellence and fidelity to the values to which I committed so many years ago."
You also may want to make it easy and convenient to designate the Abbey as beneficiary of an existing or newly established life insurance policy. Select "Ways to Give" for the details about to designate Belmont Abbey College beneficiary of an insurance policy.
You might find it helpful to select the "print" button on the top of your screen and print this page. You may feel free to give this page to your attorney. If questions arise, please be in touch with Monica Mattioli at phone number 704-461-6674 or e-mail at [email protected].