Mary A. and Edward K. Showfety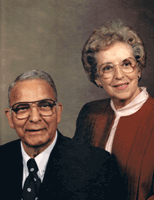 In 1995 Mary A. and Edward K. Showfety established an endowed scholarship fund at Belmont Abbey College. Over the years they contributed to the fund and it has grew, with the result that more and more students received their scholarships. The Showfetys also set up a pooled income fund through a local community foundation as part of their bequest to the Abbey. Their plan was to increase the scholarship fund so that it could reach out to even more students. Both Mr. and Mrs. Showfety have since passed away, yet their legacy lives on. After Edward's passing, Mary kept her connections with the College strong. When asked why the Showfetys chose to establish their investments in the Abbey, Mrs. Showfety indicated that, as active members of the Diocese, they had always had an interest in doing something for the 'Catholic college in the Diocese.' As one of seven children, Mr. Showfety worked his way through UNC-Chapel Hill to attain a Bachelor's Degree in Business. He appreciated his education so sincerely that he wanted to provide other young people the chance to attend college. An avid learner herself, Mary was an RN, one of nine children, who dedicated her lively intelligence to the service of her community and wanted to help other families who may find it difficult to finance their students' educations.
You might find it helpful to select the "print" button on the top of your screen and print this page. You may feel free to give this page to your attorney. If questions arise, please be in touch with Monica Mattioli at phone number 704-461-6674 or e-mail at monicamattioli@bac.edu.